Sperm freezing in time for your snip.
Planning a vasectomy? Freezing your sperm offers you insurance, so you can move forward with confidence.

At-home collection

Free 2-day shipping

Sperm frozen in 48 hours

Interest free payments
A fast and private way to preserve your fertility
Why freeze your sperm before a vasectomy? Because it offers the most affordable — and reliable — way to have kids in the future, just in case you change your mind.
Most popular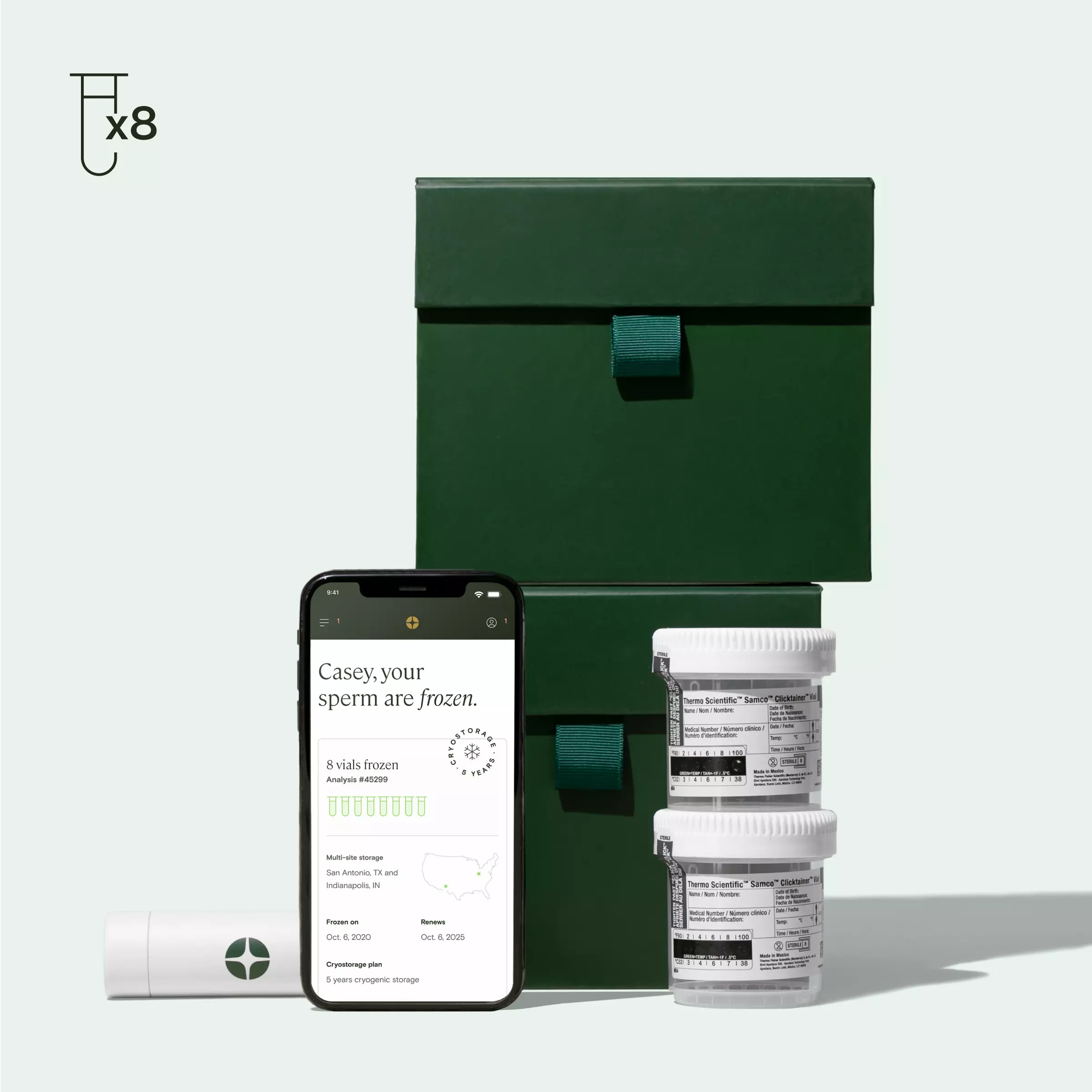 For Tomorrow
5-year storage
Our highest-rated product, with medium-term storage, so your options stay open.
$995
In stock, Free 2-day shipping
2 collection kits
1 STI test
8 vials
5-year storage (renewable)
As low as $83/mo with
Best value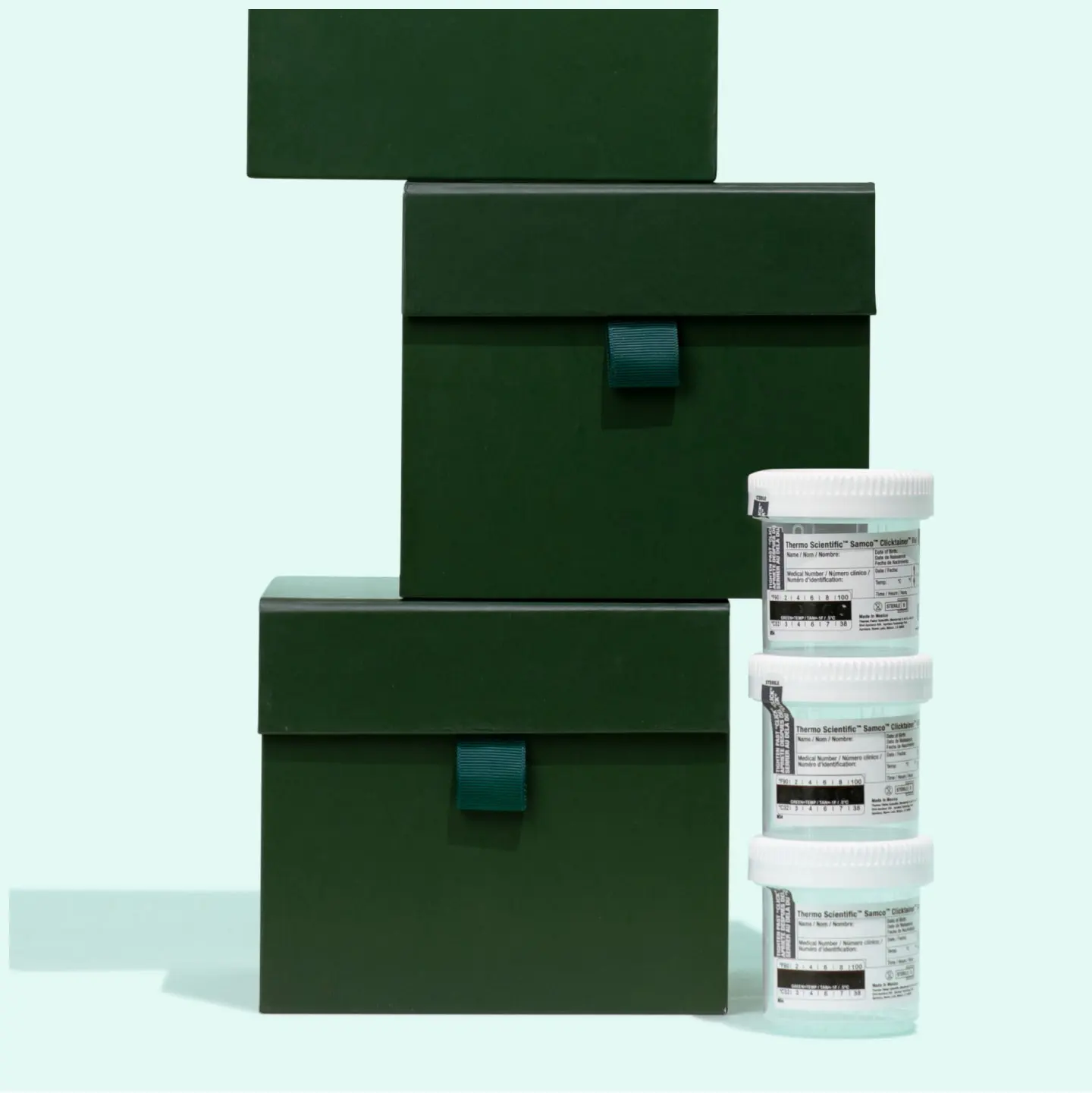 Forever
Lifetime storage
Our most in-depth analysis with long-term storage. Provides the best value for those who need to store over 5 years.
$3995
In stock, Free 2-day shipping
3 collections kits
1 STI test
12 vials
Lifetime storage
DNA fragmentation analysis
As low as $333/mo with
Sperm freezing lets you go into your vasectomy with a plan for "just in case."
Nearly 1 in 10 men will change their minds after vasectomy and get a reversal. That's upwards of 50,000 men a year.
| | | |
| --- | --- | --- |
| | Sperm storage | Vasectomy reversal |
| Cost | $1,000 for 5 years of storage | $8,000, not covered by insurance |
| Pain | 0/10 (Just pleasure!) | 9/10 |
| Recovery time | 0 | 1 to 2 weeks |
| Pregnancy rates* | Up to 50%** | As low as 30%*** |
| Sperm quality | Frozen in time | Declines with age |
*after 6 months of trying
**IUI success depends on sperm quality and parental age
***Pregnancy rates after reversal depend on how long it's been since your vasectomy, among other factors
Sperm freezing before a vasectomy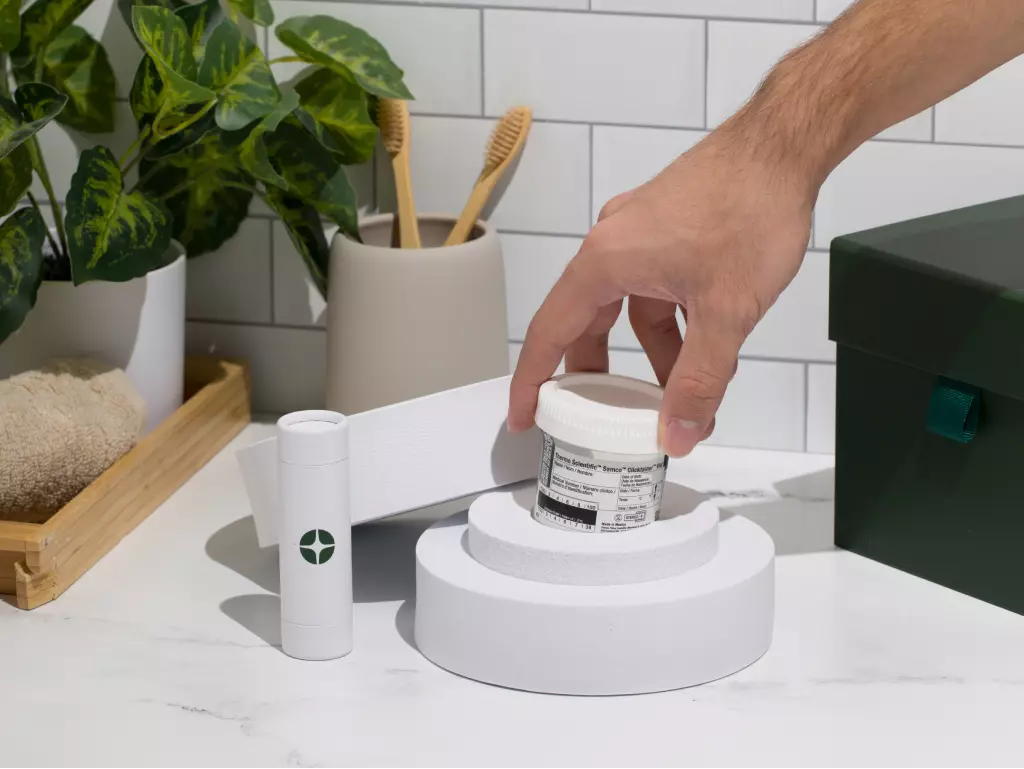 Order your collection kit online
Produce your sample at home and ship it back overnight with a prepaid label. We'll analyze your semen to ensure it's viable for freezing.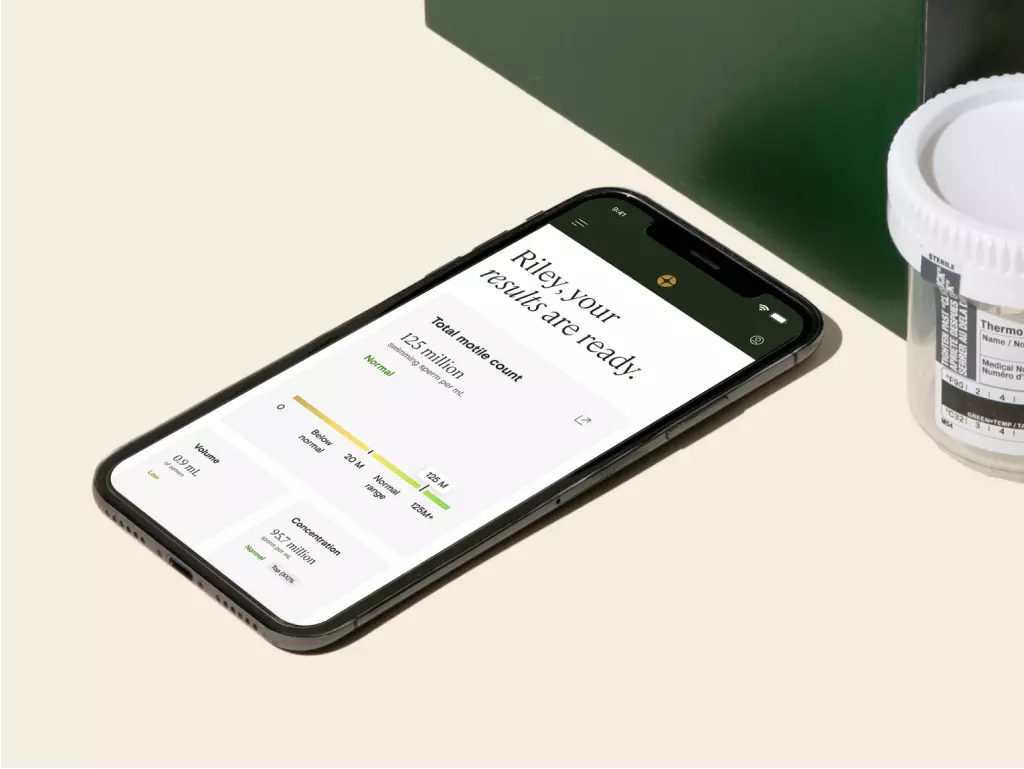 We'll freeze your sample within 48 hours
Once your sample is stored, you can confidently undergo your vasectomy, knowing your option to have children in the future is protected. You can keep your samples in storage for as long as you need without affecting their health or viability.
Frequently asked questions
Any question still uncovered?
Vasectomy is a procedure in which the vas deferens, the ducts that connect the testes to the urethra in the penis, are cut. This prevents sperm from entering your semen (ejaculate or "cum") without affecting your sexual function or hormones.
Up to 1 in 10 people who have a vasectomy will eventually seek a reversal. The truth is that you may change your mind about having (more) kids in the future. Sperm freezing is a reliable back-up plan that's significantly more affordable and less invasive than a vasectomy reversal later on.

We recommend ordering your sperm freezing kit(s) as soon as you schedule your vasectomy. This should give you time to freeze one or multiple samples prior to your appointment.
Follow your doctor's instructions. Typically, the advice is to test your semen 8–12 weeks after your vasectomy.

You should aim to ejaculate several times between one week following your procedure, and 2–5 days prior to your semen analysis — this will help you "clear out" the sperm from your testes. (Remember, your vasectomy isn't considered effective until you've had a post-vasectomy semen analysis, so these ejaculations should be masturbation or sex with contraception.)
After a vasectomy reversal, it may take some time for sperm to return to your semen, and for your sperm quality to recover. Many experts recommend testing your semen quality once per month for the 12 months following your reversal.

It's possible that your sperm quality will never reach its pre-vasectomy level even after a reversal. That's another good reason to consider sperm freezing before a vasectomy.
A vasectomy is a highly effective permanent form of birth control. Vasectomy "failure" is defined as a case in which the vas deferens reconnect after the procedure, once again allowing sperm to enter the semen. Only about 1 or 2 in every 1,000 vasectomies fail, making it over 99% effective.
Vasectomy reversal success rates vary widely, from about 30% to 90%, depending on several factors.
How long it's been since your vasectomy: The longer it's been, the less likely you are to regain fertility after a vasectomy reversal.
The type of procedure you had during your initial vasectomy, and the type of vasectomy reversal you're pursuing.
The skill level of your surgeon: Vasectomy reversal is a complex microsurgery, and success rates are higher for experienced surgeons than for those who rarely perform vasectomy reversals.
The chances of conceiving with frozen sperm depend on several factors:
Your sperm quantity and quality
Your partner's age, egg quantity/quality, and overall fertility health
Whether you use intrauterine insemination (IUI), in vitro fertilization (IVF), or intracytoplasmic sperm injection (ICSI)
IUI pregnancy rates range from 10–25% per cycle; IVF success rates range from 5–50% per cycle. So, you may need multiple attempts to achieve pregnancy. The good news is that using frozen sperm doesn't affect your chances of success. IUI and IVF pregnancy rates are the same for those using frozen sperm, compared to "fresh."
Short answer: as many as you can afford. But the ideal number of samples to store also depends on your future plans. A few questions you might consider:
Do you have kids already? If you don't, there may be a higher chance that you'll want kids in the future, even if you're sure you don't want them right now. (Hence the vasectomy!)
How old are you? If you're in your 20s or 30s, it's more likely that your family plans may change in the future.
Generally speaking, one vial of sperm is used in each IUI or IVF procedure.
1 semen sample = 4 vials of frozen sperm
1 vial of frozen sperm = 1 IUI or IVF procedure
IUI pregnancy rates range from 10–25% per cycle; IVF success rates range from 5–50% per cycle. So, you may need multiple attempts to achieve pregnancy.
The process of sperm freezing is very quick with Legacy:
Once you order your kit, it will arrive in as little as 2 days. (You choose your preferred delivery date.)
You should abstain from ejaculation for 2–5 days prior to producing your sample for freezing.
After producing your sample at home, it will be shipped overnight and analyzed and frozen the next day.
In theory, it can take as little as 3 days from start to finish. So, you don't need to postpone your hormone therapy in order to accomplish your fertility preservation goals.
As long as sperm is kept frozen in a high quality cryogenic lab like Legacy's, it can be stored indefinitely with no significant impact on its quality or the chances that it will result in a healthy pregnancy. That means you can keep your sperm frozen until your plans change — if they do!
Semen analysis results are delivered 24–48 hours after our lab receives your sample. Here's the timeline of the process:
Order your kit and it's delivered in as little as 2 business days (depending on your preferred delivery date).
Produce your sample and ship it back overnight.
Your semen will be analyzed the next day, and results will be ready within 24–48 hours.
Not necessarily. Some sperm still remains in the semen for a short time after a vasectomy.

If you've already had a vasectomy, we recommend getting a semen analysis as soon as possible — after you're cleared to ejaculate, typically around 1 week post-procedure — to assess if there are still viable sperm in your semen. If there are, you can purchase a storage plan for 1, 5, or 10 years.
* Rates from 0–30% APR. Payment options through Affirm are subject to an eligibility check and depend on your credit, terms of payment, and your purchase amount. For example, a $995 purchase might cost $89.81 per month over 12 months at 15% APR. Options are provided by these lending partners: affirm.com/lenders. See affirm.com/licenses for important info on state licenses and notifications.