Avoid the clinic. Freeze your sperm for $145/year, from home.
Average cost at a traditional clinic/sperm bank: $500/year
Join over 20,000 people who have frozen their sperm with America's largest at-home fertility clinic.

HSA/FSA eligible

Stored within 48 hours

Free 2-day shipping

Interest free payments plans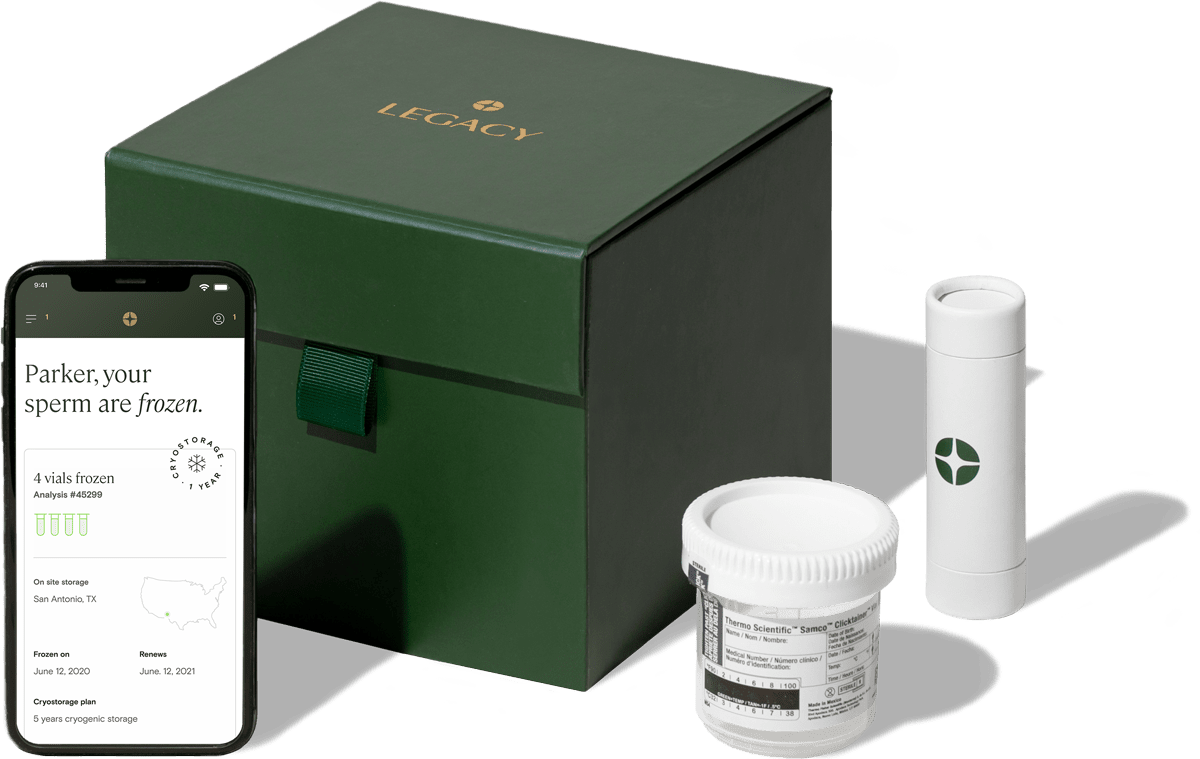 8 reasons to protect your legacy

Proactive about fertility or over age 35

Vasectomy

Fertility treatment

Military/high-risk job

Gender-affirming hormone therapy

Testosterone or hair loss treatment

Chemotherapy

High-impact athletes & cyclists
OUR SOLUTIONS
Select your bundle
HSA/FSA accepted. CLIA-certified lab results in 48 hours.
A comprehensive semen analysis that ensures your sample is viable for freezing. Flexible, renewable storage plan to get you started.
1 collection kit (semen analysis)
4 vials
1-year storage (renewable)
Our highest rated product, with medium-term storage. 2 collection kits allow you to freeze more giving you up to 8 tries to get pregnant with IUI.
2 collection kits
1 STI test
8 vials
5-year storage (renewable)
As low as $50/mo with
Our most in-depth analysis with long-term storage. Provides the best value for those who think they will need to store over 5 years.
3 collection kits
1 STI test
12 vials
Lifetime storage
DNA fragmentation analysis
As low as $83/mo with
What's in your bundle?
Multiple semen analyses
Why multiple kits? Each kit sample is divided into 4 vials of sperm, giving you up to 4 tries to get pregnant with IUI — and possibly more tries with IVF/ICSI. On average, it takes 2-4 rounds to get pregnant using assisted reproductive treatment methods.
STI test
To use your frozen sperm, it is required by law in most states to have an STI test done at the time of sample collection. So, we bundled it in, saving you up to $200 and a visit to a clinic.
Short or long term storage options
No other digital clinic conducts a post-thaw analysis to ensure your sample will actually be able to be used when it's time to get pregnant. Legacy uses CLIA-certified labs with SOC 2 compliance.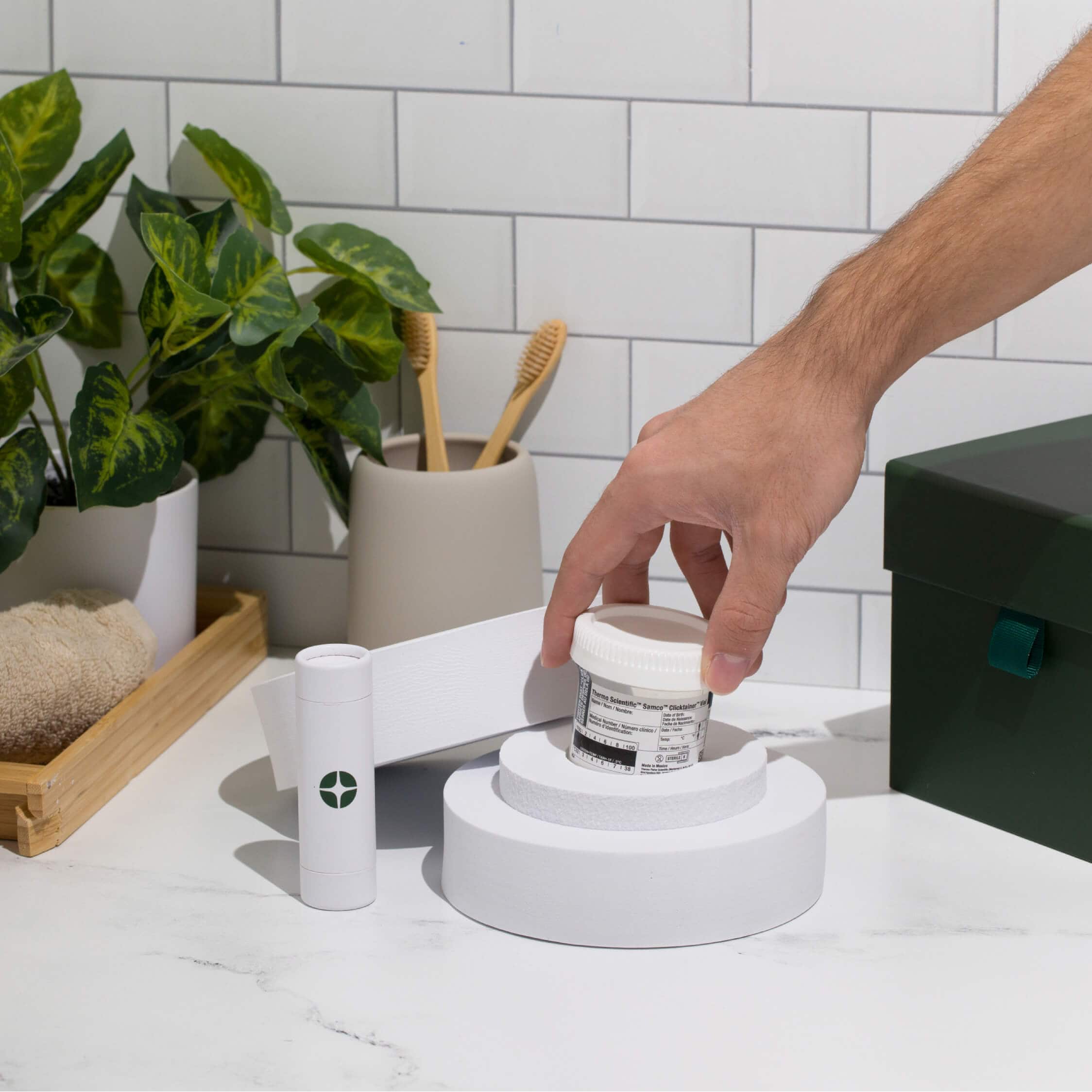 Why do people choose Legacy over a traditional clinic?
$295
$1,000*
$145/year
$500/year
2 business days
2-4 months
48 hours
1-2 weeks
No
Referral needed
5 key parameters **
DNA fragmentation
analysis +$295
STI testing +$150
DNA fragmentation
analysis +$500
STI testing +$350
* This includes the initial appointment, analysis, and the follow-up appointment to understand the results
** Semen volume, sperm concentration, sperm motility, total motile sperm count, sperm morphology
Don't take our word for it.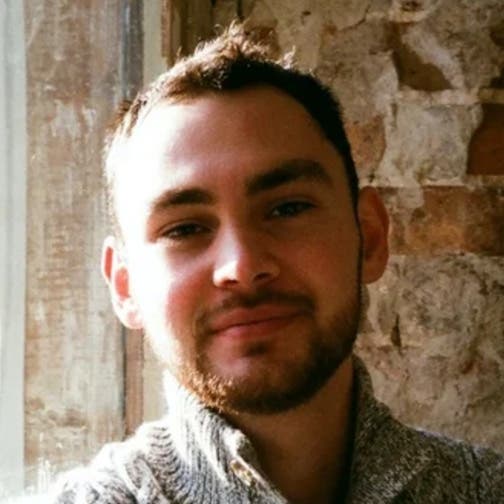 Devon from CA
Undergoing medical treatment
"I was about to start testosterone replacement therapy and realized a week before that I should freeze my sperm in case my fertility doesn't come back. I purchased the For Tomorrow bundle and received my kit in less than 48 hours and had my results back the next day."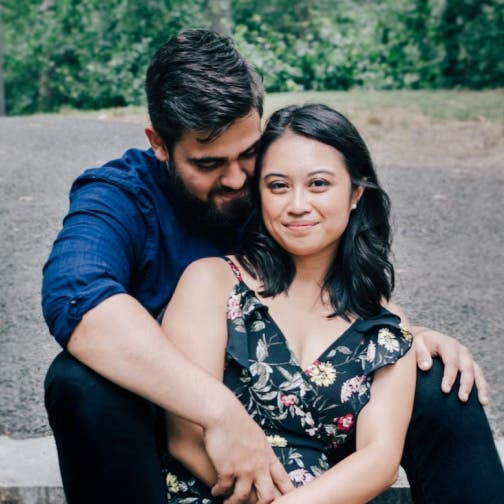 Alex from TX
Proactive about fertility
"I chose to freeze my sperm to simply have peace of mind, even though I wasn't in a relationship. Fast forward a few years, I'm so glad I did. We have to undergo IVF and we used my younger, healthier sperm. I was proud of my younger self. She'll be born in December!"
Have fertility benefits at work?
Get Legacy up to 100% off.

HOW IT WORKS
The fastest way to test and freeze your sperm — without ever leaving your home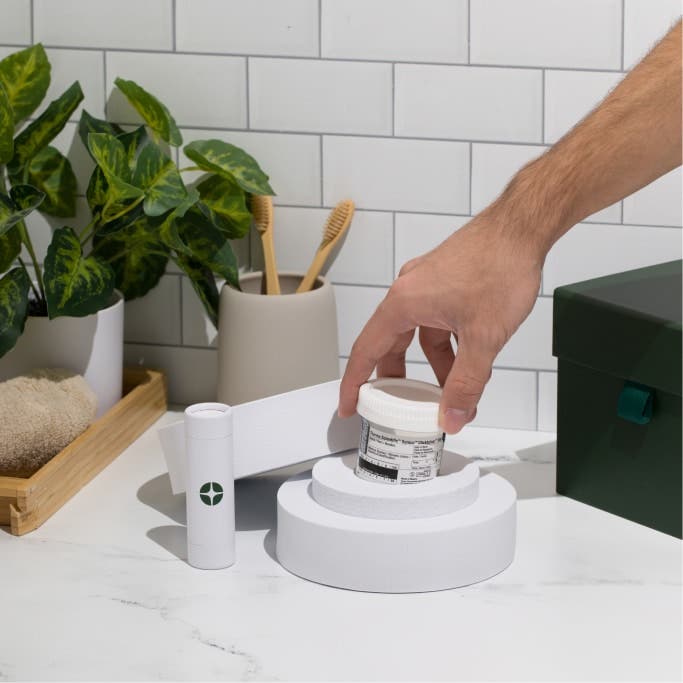 01
Collect your sperm, from home
Two days for the Legacy kit to arrive at your door. Three hours for us to pick it up when you're ready.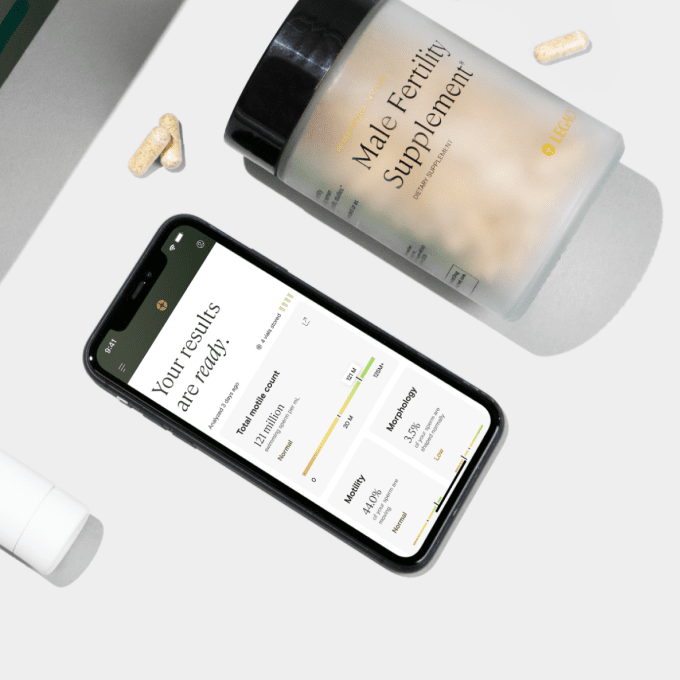 02
Understand and improve your fertility
The most rigorous, clinical sperm analysis available, delivered securely to you online in just two days.
Frequently asked questions
A semen sample, produced via masturbation, will be analyzed in a lab for sperm count, motility (what percentage of sperm are moving or "swimming"), and morphology (what percentage of sperm are the correct size and shape). This is important because you don't want to undergo semen freezing without first checking the health of your sperm.
High-quality labs will also perform a "post-thaw analysis" before sperm freezing. In this procedure, a very small portion of your sperm will be frozen, thawed, and re-assessed for quality. This helps determine if your sperm are suitable for storage and estimates how many sperm will survive the process of freezing and thawing. Sperm will be "washed" and processed to remove semen proteins and contaminants, and concentrate sperm.
Just before sperm freezing, the lab scientist will add cryoprotectant, a substance that prevents damaging ice crystals from forming inside sperm. (This cryoprotectant doesn't impair the quality of your sperm.) Finally, vials of sperm will be plunged into liquid nitrogen to bring them down to -196ºC. This is the temperature at which biological activity pauses.
Once your sperm are frozen, their health and quality are maintained. Sperm can be stored indefinitely, with no significant impact on their ability to create a pregnancy.
While STI testing is not required to do semen storage with Legacy, it is required at many fertility clinics that may be handling your sample in the future. Therefore, we recommend you complete a sexually transmitted infection panel around the time of sperm freezing. Legacy offers an STI test kit that allows you to test for 6 common infections from home. STI testing is included in our For Tomorrow and Forever packages and can be purchased as an add-on to other semen analysis and sperm storage orders.
Legacy's STI kit includes:
chlamydia
gonorrhea
hepatitis B
hepatitis C antibodies
HIV 1 and 2
syphilis (RPR)
Frozen sperm can be used in several different fertility procedures.
IUI (intrauterine insemination) is a process in which sperm is inserted directly into the uterus at the time of ovulation, to facilitate conception. IUI is an option for those with a total motile sperm count of 8 million or more after sperm freezing. The pregnancy rate of IUI using frozen sperm is slightly lower than that of "fresh" sperm, but it's a simple and affordable option for trying to conceive after sperm freezing. IUI typically requires 1 vial of frozen sperm, and if you plan to use IUI in the future, we highly recommend storing multiple samples.
IVF (in vitro fertilization) is a procedure in which multiple eggs are retrieved from a female patient's ovaries and fertilized in a lab. There, they develop into embryos that can be transferred back into a patient's uterus to attempt pregnancy. IVF is an option for you if you have high sperm motility after sperm freezing. Pregnancy rates using frozen sperm for IVF are equivalent to pregnancy rates using "fresh" sperm. IVF typically requires 1 vial of frozen sperm, unless using ICSI.
ICSI (intracytoplasmic sperm injection) is an IVF technique in which a single sperm is injected into an egg to fertilize it. ICSI is a good option if you have low sperm motility or limited quantities of sperm available due to freezing sperm before vasectomy or chemotherapy. Success rates after ICSI are the same whether using fresh or frozen sperm. ICSI requires only a single sperm. Therefore, if you plan to use IVF with ICSI, freezing 1 or 2 sperm samples should be sufficient.
It's easy to withdraw a vial from frozen sperm storage with Legacy. Once you've coordinated with your doctor or fertility clinic, you can simply request a vial withdrawal from your client dashboard, and we'll get the process started. Please note that sperm can only be delivered to a medical practice or provider — not to a residential address. The process of vial withdrawal takes around 2 weeks for domestic transfers and 3–4 weeks for international transfers.
Sperm freezing happens in a specialized andrology lab. Legacy's sperm freezing and testing labs are located across the country. Your sample will be automatically assigned to the sperm freezing lab nearest you. Then, the frozen sperm will be transferred to multiple dedicated storage facilities. We offer the only at-home sperm freezing kit with multi-site sperm storage. That means your sample will be split up and stored in several locations across the country, mitigating even the most unlikely of risks.
The amount of sperm you should freeze depends on your family planning goals, your sperm count, and the quality of your sperm after it is thawed. Each semen sample typically yields four vials of sperm. One vial of sperm equals one attempt at intrauterine insemination (IUI), which has a success rate of 10–20%. If you plan to use IUI, it's recommended that you freeze 3–5 vials per pregnancy you hope to have. If you're planning on using your frozen sperm samples for IVF with intracytoplasmic sperm injection (ICSI), a technique that involves injecting one sperm into the egg to fertilize it before transferring it into the uterus, you don't need to freeze as much. With ICSI, a single vial of sperm can be used a nearly unlimited number of times since there are typically hundreds of thousands (or millions) of sperm in one vial. If you want to have a large family in the future, you will likely want to preserve more samples than someone is planning for one child. Preserving multiple samples is also recommended if your sperm count or quality is lower than anticipated after an analysis. We recommend making multiple "deposits" when pursuing sperm freezing since sperm quality may be variable. Ideally, you would freeze multiple samples and use your best sample in the future.
There is a small decrease in quality associated with the process of sperm freezing and thawing. However, this does not appear to significantly affect chances of pregnancy using frozen sperm.
And, once frozen, sperm can be stored indefinitely without affecting its ability to create a pregnancy. In one study, it was found that pregnancy rates for IUI using sperm frozen for up to 5 years (23%) was comparable to the pregnancy rates with sperm frozen for 5–15 years (22%).
After sperm freezing, your sample can be stored indefinitely with no significant impact on quality or chance of pregnancy. One study found that pregnancy rates for IUI using sperm frozen for up to 5 years (23%) were comparable to the pregnancy rates that used sperm frozen for 5–15 years (22%).