Before training or deployment, protect your fertility in less than 72 hours
As one of the 25,000 Special Forces members, you get:
Advanced semen analysis from the comfort of your home
4 vials of your healthiest sperm stored in 2 separate CLIA-registered labs for 1 year — this is enough sperm for unlimited IVF/ICSI treatments and up to 4 IUI treatments
Personalized results dashboard within 48 hours of sample collection
Military-grade encryption of your data, including SOC 2 compliance (the highest level)
Prepaid overnight shipping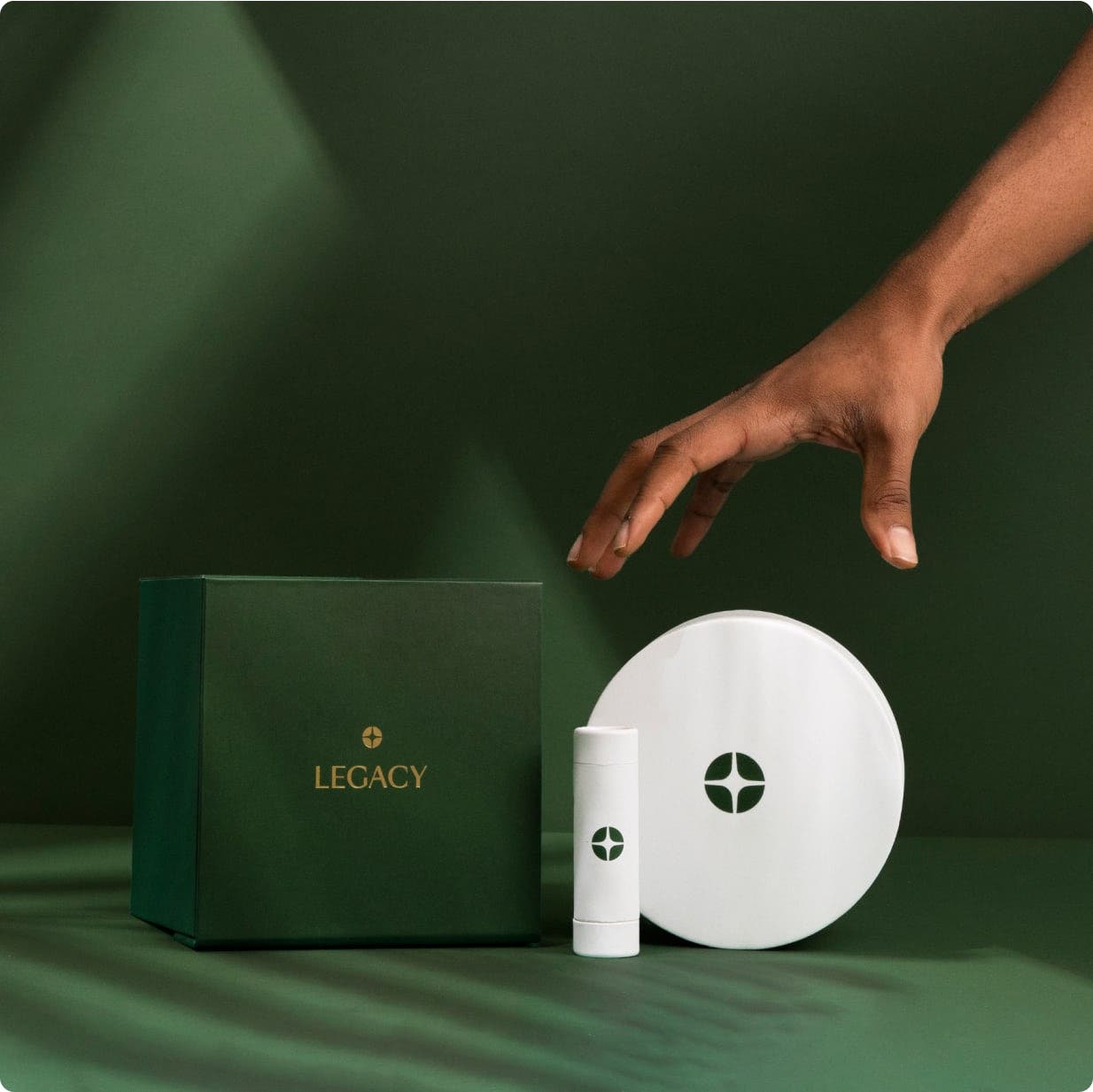 98% of Army Special Forces members are exposed to fertility impacting chemicals during deployment.**
** "…nearly all WWP warriors (98%) reported exposure to hazardous or toxic substances during military service, and more than 7 in 10 were exposed to burn pits." Read more
"Within 48 hours before deployment, Legacy was able to test, produce results and freeze my husband's sperm before he was deployed to Africa. Thanks to Legacy, I can now undergo IVF while he's away."
– Green Beret spouse undergoing IVF treatment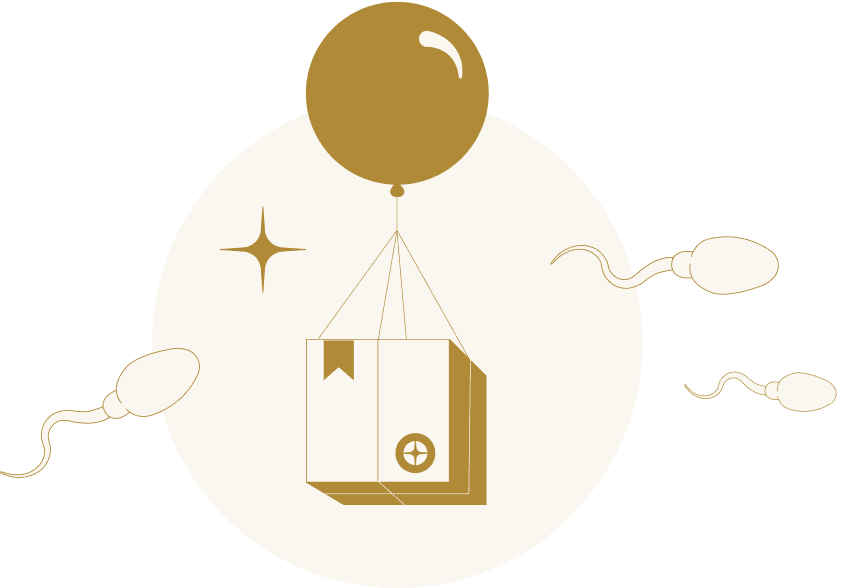 Why are Green Berets testing and freezing their sperm?
To protect their ability to have kids one day.
Military members are 2X more likely to experience infertility. Own a genetic insurance policy, so when the time is right, all your options are open.
To mitigate risk of chemical exposure, injury, and high OPTEMPO.
Prevent future family-building challenges by storing your healthiest sperm. So even with physical separation, you can continue your family-building timeline.
To learn their fertility baseline.
A diagnosis of infertility is required for financial support. But proving infertility for military members is near impossible. Having a starting assessment of your fertility stats — like you do for vision or heart health — ensures you get the help you may need in the future.
Legacy is the largest fertility clinic by volume in North America.
20K
Legacy clients with sperm
tested
48h
Between sample collection
and results
47
Favorable NPS client
satisfaction score
5
Semen parameters measured
in a clinic-grade analysis
Join the hundreds of military families who trust Legacy to test and freeze their sperm today.

"I have a family now because I chose to freeze my sperm before deployment."
— US Army Green Beret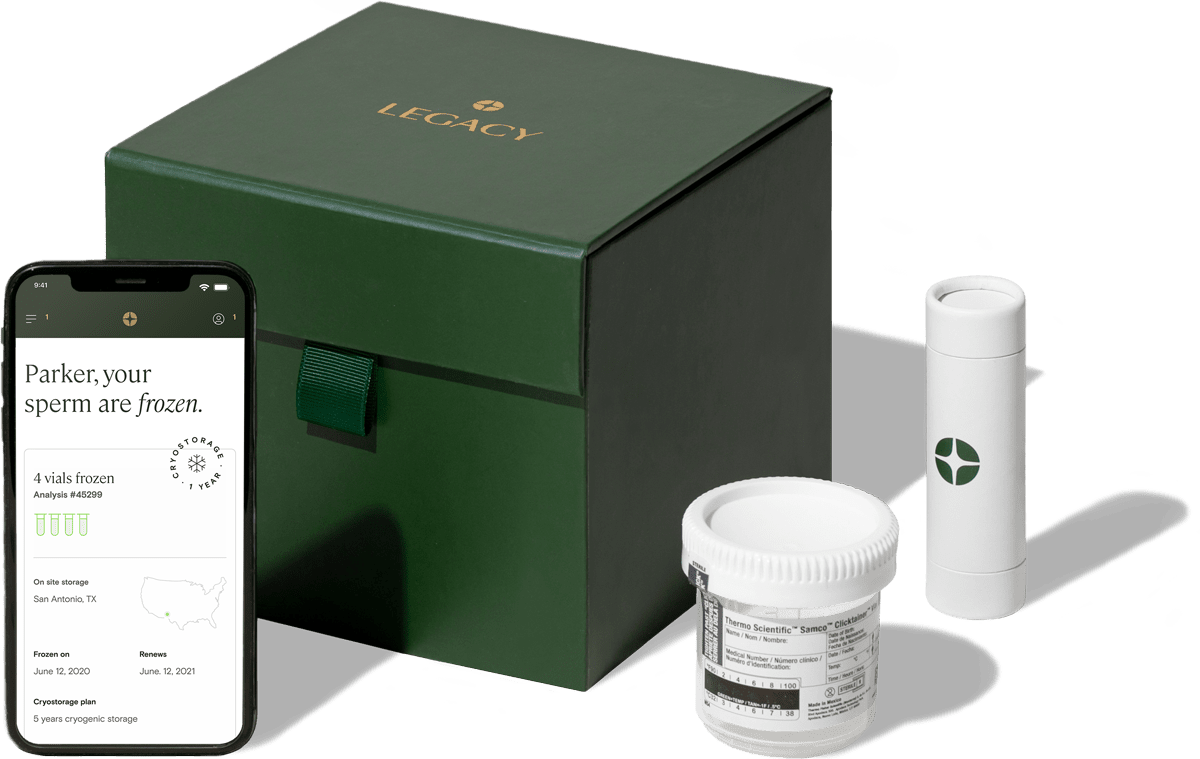 Frequently asked questions
A sterile sample cup with unique ID or QR code, found inside the Legacy vault
Transport media (a vial of pink fluid) to keep sample viable during shipping, found inside a cardboard sleeve
A red tamper-proof strip to seal the shipping box, ensuring your sample is untouched in transport
A pre-paid return label to ship your sample overnight to our lab for analysis.
We offer more advanced sperm testing options than any other at-home kit and even many conventional clinics. Our sperm testing includes a post-thaw analysis and a quick freeze-and-thaw of a small percentage of your sperm to give the client a better understanding of what their sperm's viability will be after it has been frozen. No one has to wonder if their sperm will be viable after being frozen for the short or long term.
We account for a hundred minor challenges when it comes to analyzing sperm, like a temporary bump in motility that happens when placing sperm on the slide — an action that "activates" sperm and can skew motility results if not accounted for.
Your analysis includes:
Volume: How much semen you're producing
Count: The total number of sperm in your sample
Concentration: The ratio between semen and sperm
Motility: How many of your sperm are actually moving, a metric not included in other at-home sperm count tests.
Morphology: How many of your sperm are the proper size and shape.
Plus, we provide the option to add a sperm DNA fragmentation analysis (at an additional cost), an assessment of your sperm's genetic health, which may illuminate deeper causes of fertility difficulties
Here's how we ensure your samples are safe no matter how long you store them:
1.
At the end of the analysis, client specimens are stored in 4 vials that are identified with labels to guarantee an error-free matching of samples with cryo-vials. Each label possesses a distinct QR code that is scanned each time the vial is moved. No scan, no move.
2.
These vials are scanned before being stored in LN2 tanks. They are given a unique set of coordinates in our Laboratory Information Management System to allow for their fast and easy retrieval when the time comes.
3.
Our lab staff follows rigorous SOPs and chain of custody practices to load and ship samples to our third-party storage facilities (and to our own internal biobanks). Legacy works with industry leaders in the storage space to create state-of-the-art sperm freezing and storage facilities.
4.
Not only are samples separated into four vials, but we also provide multi-geographic storage as a fail-safe. If something happens to a storage facility in one place, you still have samples at a different facility.
Because of those geographic coordinates, we can tell you exactly where your samples are: from the geographic location down to the actual position inside the storage tank. We don't keep this knowledge from you either. Your dashboard also shows you exactly where your samples are stored for as long as you have samples with us.
There is nothing more important than ensuring the security of your sample, and so this is an area of particular focus for us.
Your particular kit has a unique bar code assigned to you and only you. The barcodes are scanned and must match exactly to ensure the kit is going to the right client. This is a rigorous process but inevitably leads to the most accurate output possible, so that once you've produced your sample, we arrive that same day to whisk the kit back to our lab and verify that its yours.
Your unique QR code provides a unique yet anonymized and encrypted identifier that protects your privacy while ensuring no samples ever get mixed up. The identity of samples arriving to the lab is validated by matching information present on the QR code and shipping label. This closes a quality control loop that was initiated at fulfillment and transport.
Once you decide to start a family — or withdraw from Legacy for any reason — we leverage all our power and our entire network to ensure the safest withdrawal possible.
1.
We connect with your clinic to determine where and when to deliver the sample. We handle all the required paperwork for the clinic and our own FDA regulations. This means up to ten different documents for a single withdrawal, but all of that is handled on Legacy's end so you can focus on what's important.
2.
Next, we communicate with the clinic to determine the best procedures. This means deciding when to ship the sample based on the type of procedure, when it's happening, and what storage the new facility has on-site. It also includes discussing the ideal number of vials for the specific procedure. Remember that we have highly trained medical staff and fertility experts on staff who can make these delicate decisions alongside your doctor.
3.
Your samples are stored in different geographic locations, so we use our geographic coordinates to locate them and send shippers — sometimes across the entire US — to retrieve them.
4.
We partner with an industry-leading shipping service to ship the vials in liquid nitrogen tanks to the receiving clinic. We provide constant communication regarding shipping updates to you and the clinic throughout the entire journey.
5.
Once we complete the withdrawal and shipping process, we update your dashboard to reflect how many samples you have left and where they're stored.
Legacy's at-home sperm testing kit uses a state-of-the-art transport media, a buffer solution that preserves the quality of the sample for overnight shipping. The transport media maintains the health of your sperm for up to 48 hours. There is a very slight decline in sperm motility (about 10%) expected when using at-home sperm analysis kits.
At-home sperm testing has been scientifically validated to be an accurate representation of your overall semen quality. Results with mail-in analysis kits closely correlate with results from conventional, in-person semen analysis.
A sperm count test looks only at sperm count and concentration. Many at-home options are limited to these metrics — but a high sperm count isn't necessarily helpful if your sperm quality is abnormally low. Legacy's semen testing kit looks at all of the key metrics for sperm health, including sperm motility (how well sperm are moving) and sperm morphology (how many sperm have the proper size and shape).
You do not need a doctor's note, prescription, or requisition to order a Legacy kit. All too often, male fertility isn't tested at all until a couple has been trying for 12 months, even though many sperm health issues can be fixed with simple lifestyle changes. We've put the power of proactive testing and data in your hands.
You could get your results in as little as a week with Legacy. Once you order, we provide free express shipping to your door, plus free overnight shipping back to our lab. Your analysis is performed immediately upon arrival, and results are available in 1–2 business days.
Legacy's mail-in semen testing kit makes it simple
1.
Order a kit (options include For Today semen analysis, For Today + sperm DNA fragmentation analysis, or packages that include sperm freezing). Choose your preferred delivery date.
2.
Collect your semen sample at home via masturbation. Follow the simple instructions provided to mix your sample with the transport media and ship the kit back.
3.
Receive your comprehensive sperm analysis report, plus guidance on lifestyle interventions to improve your sperm health, within 2 business days.
4.
You have the option to speak with one of our male fertility experts about your results and your family goals.
5.
You may choose to freeze your healthy sperm sample for a low monthly or annual fee. If you did not select freezing before purchasing your kit, you have up to 7 days to decide to freeze after getting your results.