US DEPARTMENT OF VETERANS AFFAIRS + LEGACY
Join forces as a community by participating in our veteran fertility study.

"I spent 62 months in Iraq and Afghanistan. I'm 38 and have had 2 strokes. If something like this can identify that burn pit exposure is a contributing factor to infertility, I'm excited to do my part."

The Boston Globe

@BostonGlobe
"We know based upon existing evidence that male veterans are at high risk of infertility, but we don't really know why, we don't have a good scientific reason…" the research project with Legacy "is really aimed at trying to begin to put the puzzle together."
Ryan Vega | Chief Officer for Health Care Innovation and Learning
US Department of Veterans Affairs

Military Times

@MilitaryTimes
"Infertility has been largely ignored when it comes to toxic exposures. This work is essential to honor the commitments we made to our veterans."
David Shulkin, MD | Former Secretary
US Department of Veterans Affairs

Daily Mail Online

@MailOnline
"Infertility causes include exposure to toxins, lead and heavy metals. Lead absorbs into the bloodstream and has been proven to affect sperm"
Dennis Downey | 29-year Special Forces Veteran
Studies wartime exposure
Legacy and the US Department of Veterans Affairs have partnered to test and cryopreserve sperm for 1000 Global War On Terror (GWOT) veterans across the United States.
Legacy and the US Department of Veterans Affairs have partnered to test and cryopreserve sperm for 1000 Global War On Terror (GWOT) veterans across the United States.
Want to participate?
Join the study today!
Complete the form below to begin the study enrollment process.
Living in Boston?
The GWOT Veterans Fertility Study will start in the greater Boston area. Once you've filled out the form above, get in touch with your local Boston VA Medical Center to finalize enrollment.
AFTER APPROVAL YOU CAN EXPECT:
1st kit
Results
1yr storage
2nd kit
Interview
Study
01
Your 1st semen analysis kit is delivered
Follow the instructions during the ordering process to pick a delivery date and be prepared to produce a sample.
02
Receive your results on your dashboard
Within 48 hours of sample collection, you'll receive a detailed report measuring 5 main parameters (count, motility, morphology, volume, and concentration) of your sperm health.
03
Your sperm sample is stored for 12 months
4 vials of your sample will be stored in 2 separate FDA and CLIA-registered labs.
04
6 months later, order your 2nd semen analysis kit
Follow the same steps as your initial kit, your results will appear on the same dashboard as your first kit.
05
Interview with a Legacy and/or VHA medical professional
A quick phone interview may be conducted to help more deeply understand the change in your sperm health.
06
Study is complete and research is published
Following completion of all 1,000 veteran samples, the findings will be published by the US Department of Veterans Affairs (all data will remain anonymized).
AM I ELIGIBLE?
Participants must be a Global War On Terror (GWOT) veteran living in the United States.
*Other participation restrictions may apply.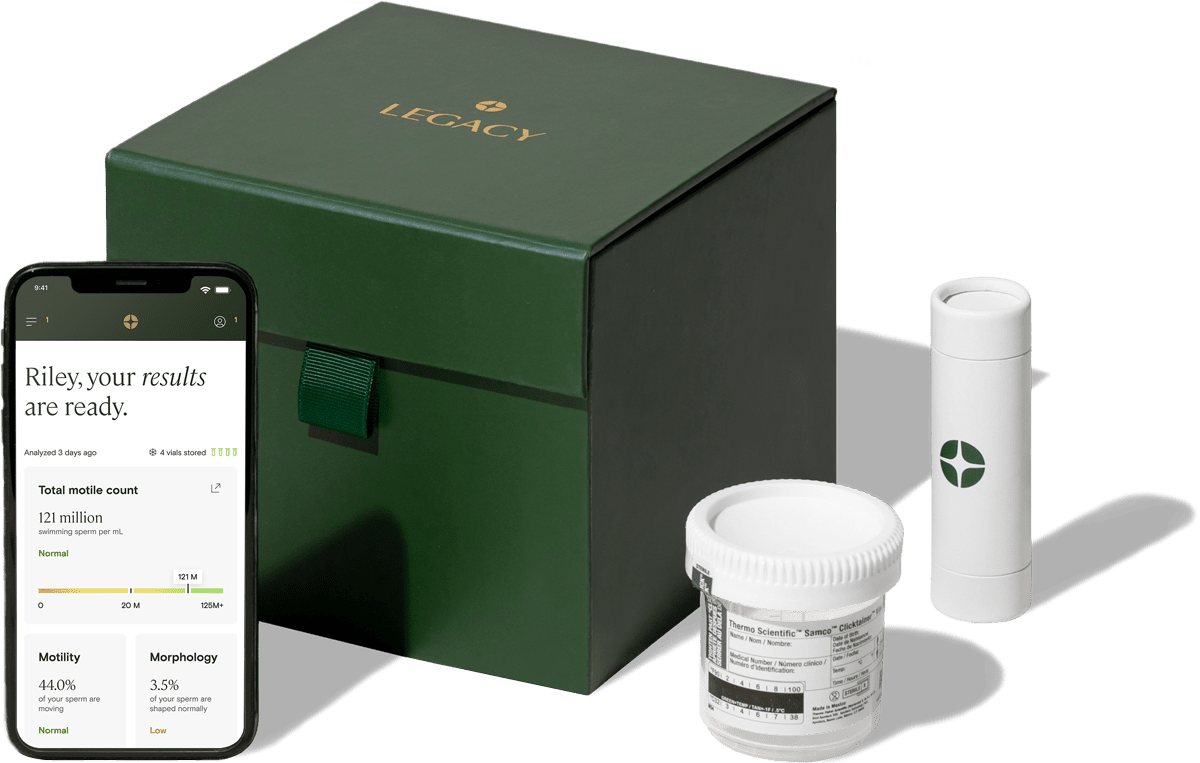 "Many of our veteran friends have experienced serious health conditions. If this can help identify contributing factors to Veterans' Health, we are eager to participate and support this collaboration."
Leandro DaSilva, US Navy veteran, Acting Director, New England Center for Innovation Excellence (NECIE)
BY JOINING THIS STUDY YOU WILL:
Support fertility benefits for the military.
Unlock key findings around fertility challenges.
Learn the data behind your own fertility.