Test, store, and improve your fertility
Browse our fertility and sexual health testing, freezing, and improvement options below. Not sure what's right for you? Take the quiz to get a recommendation, or speak with a fertility advisor for personalized guidance.
Bundles
Get what you need for less by purchasing testing, freezing, and/or supplements together. Take the quiz to find out which bundle is right for you.
2 semen analyses, 1 STI Test Kit, 5-year cryostorage
3 semen analyses, 1 DNA fragmentation analysis, 1 STI Test Kit, lifetime cryostorage
1 semen analysis, 3-month supply of Male Fertility Supplement
At-home testing for 6 STIs
Sperm freezing
Add a frozen sperm storage plan to any semen analysis to preserve your sample — and your peace of mind.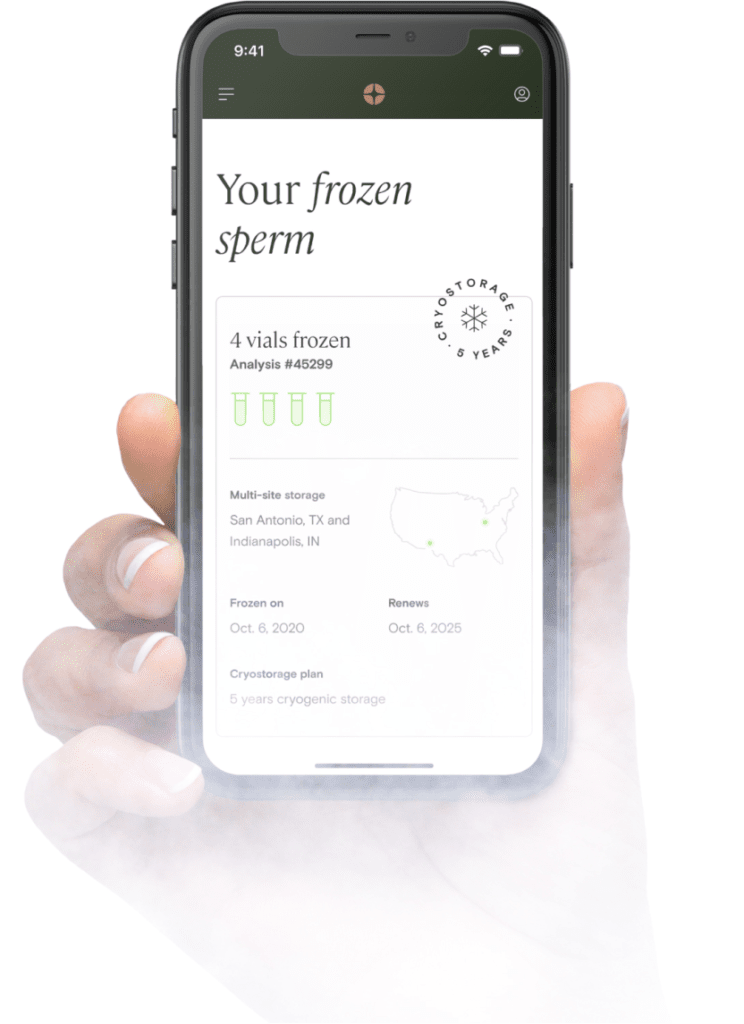 180 capsules, 3-month supply
Ways to pay (and save)
We've partnered with major health plans, fertility benefits providers, US military programs, and financing merchants to provide a wide variety of discounts, reimbursements, and payment options.
Break the cost of fertility care into monthly payments, interest-free, with Affirm financing. Your rate will depend on your credit, terms of payment, and purchase price. Select Affirm at checkout to explore your options. Or, try a Splitit payment plan.

Pay in monthly 0% interest installments. No hard credit check required.*
Buy now, pay later with Affirm 3-36 month payment plans available.
Frequently asked questions
With IVF, one vial of a normal sperm sample can help to fertilize many (thousands) of eggs, since a normal sperm sample has millions of sperm. If you're doing IVF/ICSI, 1 sample should be sufficient.
For IUI, each vial represents one IUI attempt. Meaning if you do 1 Legacy sample, you will have up to 4 attempts. It's generally understood that 3-5 vials lead to 1 pregnancy with IUI (however, this is NOT guaranteed – just a general rule). This would mean that 1 sample = roughly 1 pregnancy. For this reason, we would recommend storing 2+ samples if you're planning on doing IUI. More vials = more attempts.
Our fertility analysis, services, and cryostorage are the most advanced on the market. Period. Whether you're evaluating an in-person male fertility clinic, or an alternative at-home kit, Legacy provides the most detailed and robust solutions on the market. We are the only company that operates or processes each step in the fertility journey, including owning and operating the physical laboratory and machinery where analyses are conducted.
If your analysis reveals that your sample isn't viable for freezing — for example, if no sperm was found in your sample — you have a few options. You can speak to one of our male fertility specialists to understand what may be affecting your fertility, as well as some next steps you may want to take. You also may want to re-test to confirm any abnormal results.
If your purchase includes storage but your sample is deemed not viable for storage by our lab, we will refund you for the storage plan you purchased as well as any unused services (such as further testing that could not be performed).